Michael ERNST



As a child Michael was always drawn to music. During his pre-adolescent years he was mostly influenced by classical music and he had often dreamed of playing the guitar belonging to his late father. However, Michael's guitar interpretations were destined to be far more profound and current than those of his earlier classical influences.

On his eighth birthday he received the present which he had so longed for - his father's guitar. After just two years of guitar lessons, he began writing his first songs. As his music knowledge was fairly basic and he had still not entirely grasped the concept of music notation, he opted not to write the music "dots" for his songs. He did, however, have a knack of remembering his songs in their original style and was always ready to play them impromptu.

While attending boarding school, he was introduced to Pop music - a totally new world for him. The Rubettes and Slade among others were the first bands he got to know. His songwriting was now very much influenced by these completely new sounds. Michael's stepfather Rudolf Simmer also began to show him various new chords on his guitar. Michael would then incorporate these newly learnt chords into his compositions. Finding the right singer for his songs proved difficult, so he chose to interpret them himself. At the age of eleven he developed a love for The Beatles and was soon influenced by their music. Michael decided to follow in their footsteps and create his own band. They played at numerous school concerts. The sheer energy of the crowd was a magnetic experience for Michael. He had now experienced a high that left him wanting more. After he had made several changes to the band - switching musicians and a change of image, Michael was soon to be a proud member of one of the most successful bands in Austria - Challenger. They went on to win several competitions, featured on many TV performances and played at countless concerts. However, due to different dynamics within the group they agreed to separate in 1982.

So now with the chance of a solo career, he founded a record and music production company with Rudolf Simmer. While the company was getting itself established, Michael taught himself to play the piano.

Studio work was new territory for Michael, but his first single, "Travel To The Moon" (released by Cop Records)was very well received. Subsequent releases brought him several chart successes. Again, he experienced the high which had originally brought him into the music world. During this period Michael would meet the beautiful Andreja, who would soon become his wife.

"Tell Me That You Love Me" was Michael's biggest song to date. The title had been released in many European and Asian countries. Encouraged by this success, Michael and Andreja started to realize their biggest project ever, "Excalibur". After completing preliminary recordings, he started the search for collaborators.

In the meantime, he produced a single for UNICEF entitled "Help the Children". For this he founded the publishing company, Fairytale Music. The company proved to be very successful with the distribution of the product, especially in Austria. Michael and Andreja were awarded numerous awards for this project - The Albert Schweitzer Medal (Schweitzer was founder of The Red Cross), the French prize "Oeuvre Humanitaire" and an award of "The Knights of Malta". Michael started working on another charity project in the middle of 1994. This time it was for the SOS Kinderdörfer. Today his commitment to humanitarian causes is still very strong and he continues to be involved in many charity functions.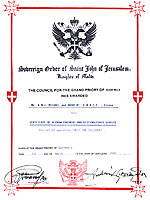 Malteser-Kreuz


Humanitarian award
for the "Help The
Children" project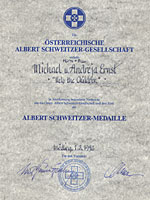 Albert Schweitzer-Medal
Humanitarian award
for the "Help The
Children" project






Oeuvre Humanitaire


Honorary membership
award






In early1995, Michael wrote a number of songs for other artists. During the following two years, he would originate a number of album projects, a musical for children and several single releases, earning several more awards in the process.

In 1996 Michael returned to the "Excalibur" project. The recordings of the early nineties were scrapped and the entire album was re-recorded with the participation of British vocalist Chris Thompson (Manfred Mann) and production help from Alan Parsons (Alan Parsons Project). The album was produced by Johnny Bertl. When the production was completed, Michael was offered the chance to turn "Excalibur" into a musical for the Theater des Westens in Berlin. Although the promised production did not materialize at that time, it is hoped that it will one day hit the stage.

Michael's studio was totally refurbished in the autumn of 1999 and he opened the doors to other artists. That same year an association called The Point Of Music was formed to launch an annual music competition for children and adolescents. The brief for the young competitors was to be musically creative and write and perform music which dealt with serious life-threatening topics. The project continues to be a huge success, and well established artists have attended as guest singers and judges.

In 2001, Michael met Andre Wright and together they formed the pop duo 2Faces. "Happy Christmas" (Lennon/Ono) and "There's A Light" (Wright/Ernst), two songs recorded for their upcoming debut album, supported the biggest Austrian charity event, "Licht ins Dunkel".

While 2Faces was enjoying their success, Michael made the decision to follow through with the release of the "Excalibur" album. As the theatrical premiere had been cancelled following the closure of the "Theater des Westens", there was no reason to delay the release any further.

Finally, and with much hard work, the concept album "Excalibur" was released in December, 2003 in Germany. In the beginning of 2004 the album was also released in most European countries.